Sandy Rooms, Hotel Corte Rosada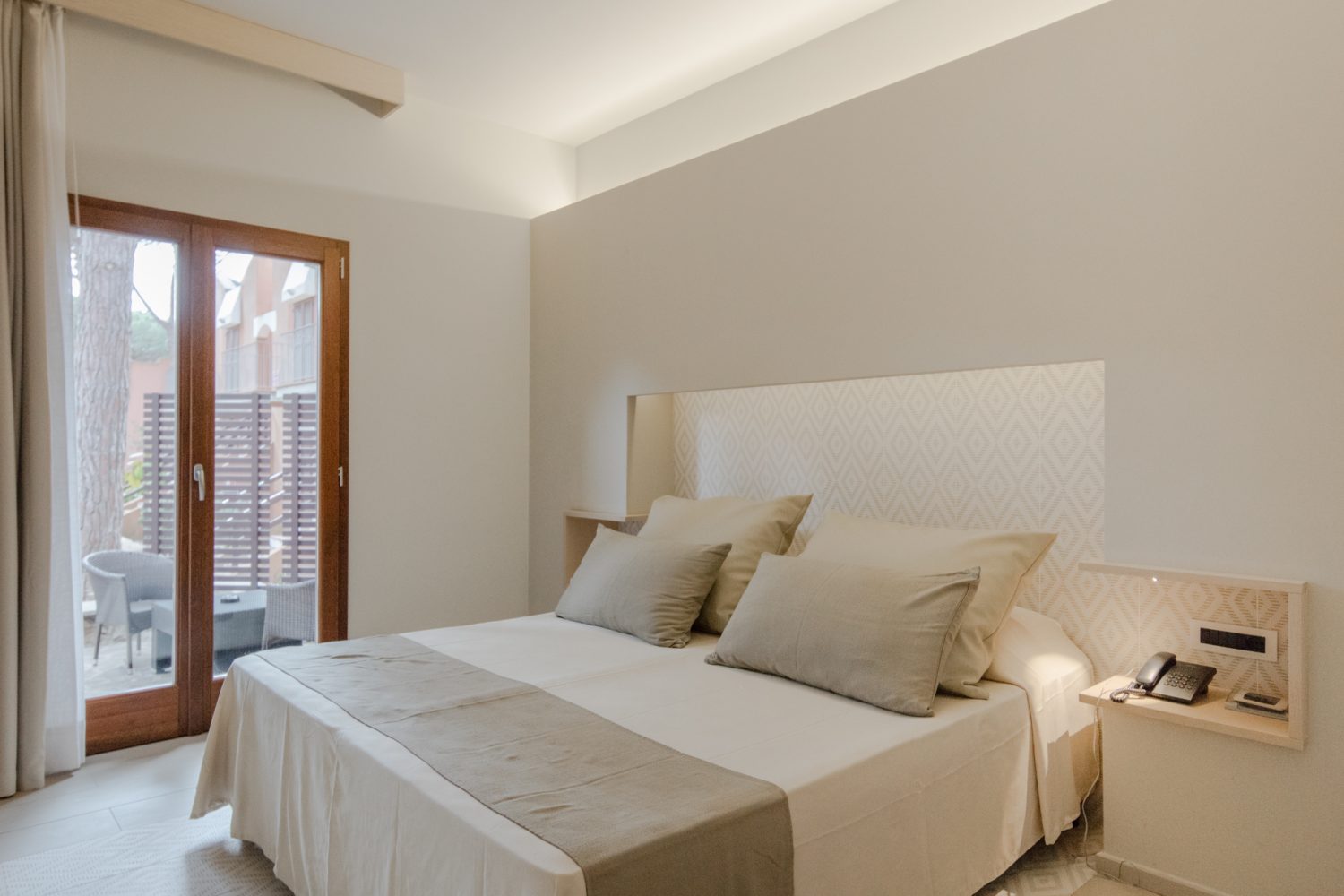 Project Details
Hotel Corte Rosada is a complex built in 1973, characterized by a series of buildings surrounded by the calmness of the pine grove of Porto Conte, and consists in sixteen rooms each: on the ground floor each one has a small patio, lacking of privacy, while a balcony can be found upstairs. One of these buildings, no.6, has been completely renovated by the studio Officina29 Architetti of Sassari – authors also of the
renovation of the restaurant hall
, the
realization of a wellness center
and the care of the
surrounding greenery
.
The renovation work consists in transforming the existing rooms into eight junior suites and it has been as minimalist as possible to reduce costs and building works: the existing walls have been maintained, demolishing only those needed to join the pair of rooms and bathrooms. It has been decided to keep the existing entrances for a single junior suite, in order to make the room wings independent if the guests were two couples, so to ensure the right privacy. The living area, in fact, can easily accomodate two more people.
Subsequent works have been performed in plasterboard, designed to enrich the space and make it more functional, thus integrating the lighting system. The double bedroom, for example, is characterized by a thick fake-wall that has a niche both for the bed and bedside tables, fully integrated into the structure – as well as the diffused lighting, never dazzling but soft and hidden to the sight. At the windows the stripleds run alongside the curtain tracks, both hidden by a parallel plasterboard plate, creating a relaxing atmosphere.
The choice of materials, textures and colors has been natural and spontaneous: shades of beige, like the sand a few hundred meters away; porcelain stoneware and flooring, in relief to the touch, like the different shapes the sand itself assumes thanks to the action of wind and sea water; the wood, which is all around the place, among the surrounding pines; geometric patterns, as embroided in the bricks and which recall the Sardinian tradition of carpets and bedspreads.
Some of the junior suites, those looking out over the seaside or the pinewood, have been provided with additional windows, in order to frame the beautiful scenery in which the Hotel is placed, magnifying the peace and the pleasant feeling of being one with nature. In order to increase the privacy of the ground floor patios, wooden shades have been placed where necessary, to ensure a further relaxation area away from prying eyes, surrounded by nature and the pleasant background of cicadas.
Dettaglio Progetto
Project: Sandy Rooms
Type: Hotel rooms
Year: 2015-16
Architects: Officina29 Architetti
Team project: Stefano Ercolani, Antonio Chessa, Marta Bonesu
Client: Private
Photo Credits: João Morgado, Fotografia de arquitectura