Ardisson Pyramid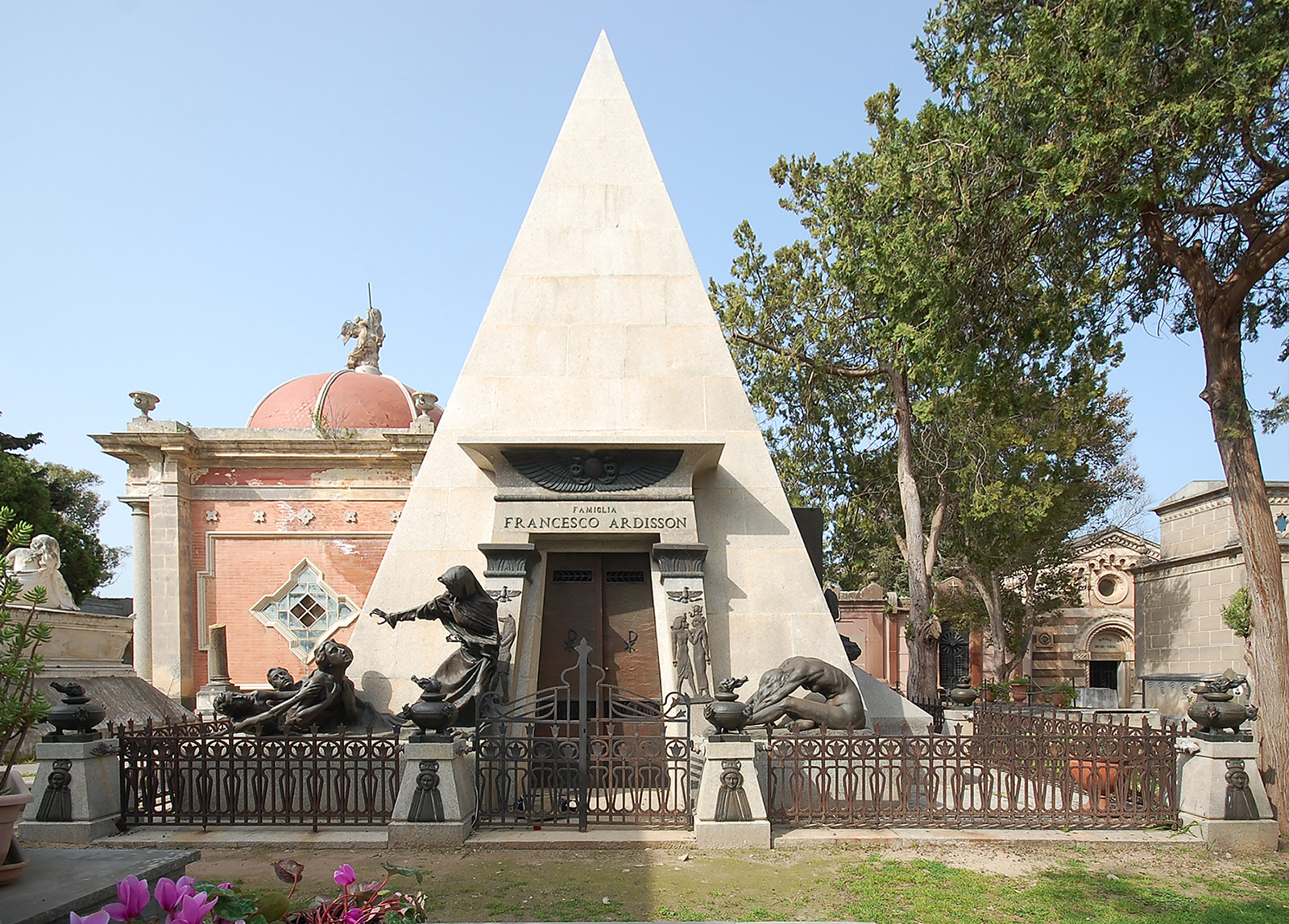 Project Description
The funeral monument is a pyramid about 8 meters high and was built in white and gray granite from the quarries of La Maddalena, which are joined by some prisms and pyramidal trunks in pink beta granite on which stand the bronze sculptures and bas-reliefs, produced from the Foundry Nelli Roma. In addition to the evidently Egyptian shape, other typical elements of that culture are present both in the entrance portal and in the motif of the fence railing and in the bronze elements that characterize the connecting plinths in granite. The decorative apparatus on the left side of the entrance represents Death wrapped in a cloak moved by the wind, which stretches a skeletal hand (and one finger is missing) towards a group of souls; on the opposite side the allegory of Pain, represented by a desolate female and naked figure, who leans forward on herself. On the opposite side, at the corner, there is another bronze sculpture, which represents the Spirit of the Work; here there is also a bas-relief in white marble.
Overall, the state of conservation is good: the structure has a widespread biological attack and infiltrations of iron oxides and copper carbonate sulphates, where the bronze and iron elements are degraded. In fact, due to exposure to the elements, the statues have greenish spots and patina, some have been stripped from their original location due to weed vegetation and the iron fence is largely rusty. Some decorative parts, such as a finger in Death's right hand and Egyptian-style bas-reliefs, have been stolen over the years.
The interior has a rib vaulted body, devoid of any decoration, except for a high plinth that runs on all four sides, and the staircase leading down to the crypt, with a lowered barrel vault. The plasters and smoothing compounds, especially on the ground floor, show widespread degradation, some parts have fallen off leaving the masonry exposed and in other places there is the original painting, albeit deteriorated. The pavement in gray and white granite squares is mostly dirty and some elements have jumped from the underlying bedding mortar, but it is completely recoverable. The staircase is the most degraded element: it has no plaster on the underlying part, some marble treads are cracked or even split, and the composition of the attic of the vault where the plaster has fallen is also visible.
The planned intervention is of a conservative type, intended to restore the pyramid structure, the statuary and the interior of the crypt to its original splendor, through a systematic set of punctual and accurate interventions, which do not alter the characteristics of the existing building.
The project basically includes three types of intervention:
the restoration of the stone materials of the main structure;
the restoration of bronze, iron and lead works;
the restoration of the crypt.
Project Details
Project: Ardisson Pyramid
Type: Conservative restoration
Year: 2019-21
Architects: Officina29 Architetti
Art conservator: Dott.sa Ianiri Giuseppina
Client: Private
Photo Credits: Officina29 Architetti