Lumen House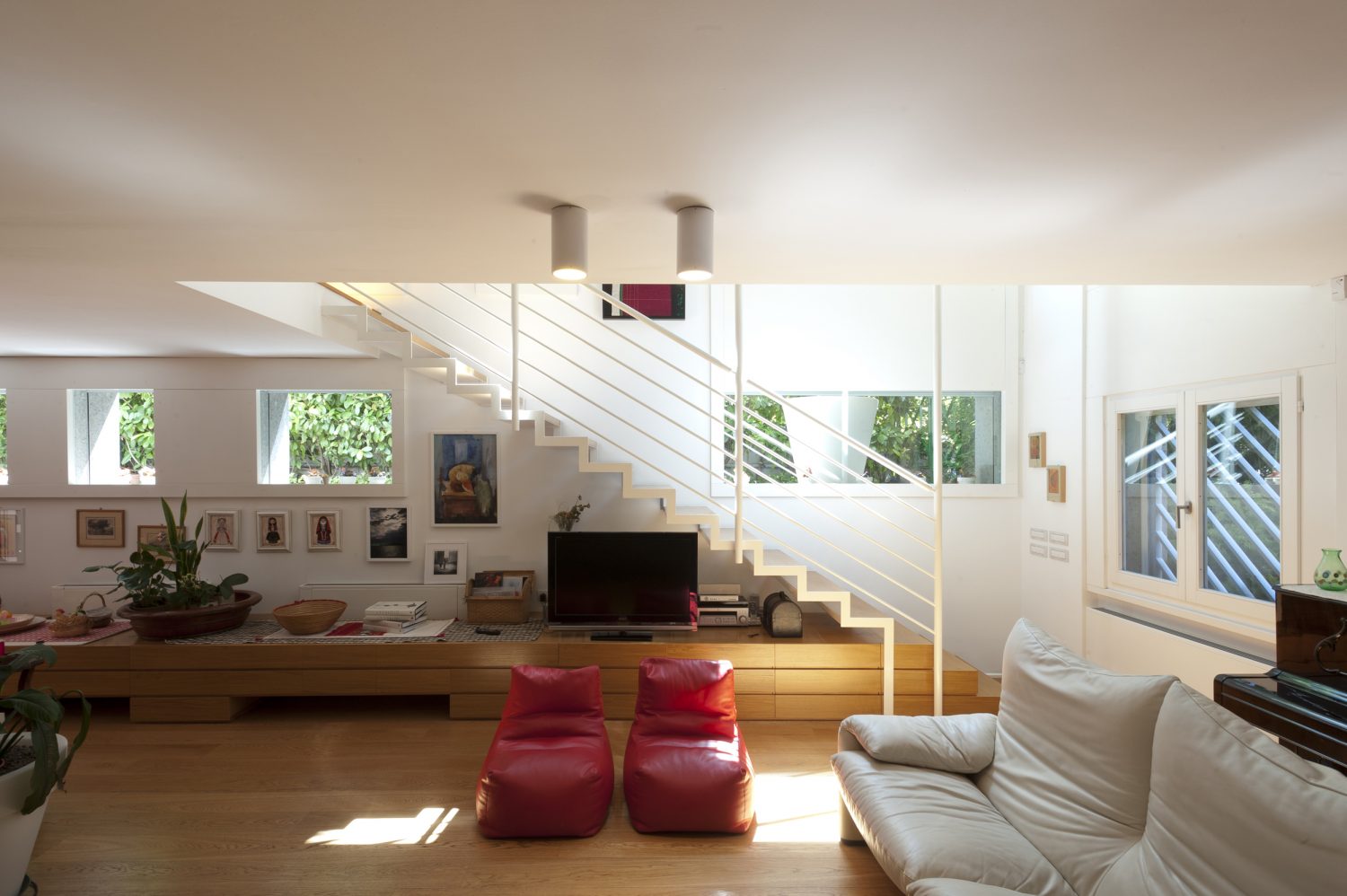 Project Detail
The main problem of this project, before the renovation, was the low lighting of the ground floor. This was narrow and low, and the poor arrangement of the space made it even darker. The main goal, therefore, became to bring brightness even where the direct lighting was not physically possible.
The project focuses around a well of light, which also houses the scale, dimensioned as to allow the large windows of the first floor to illuminate the living area, located on the ground floor. In order not to stumble into the same mistakes and make dark some rooms, it was decided to divide the space by septa that do not touch the ceiling: in this way a unique environment has been created, although divided into several areas, and the light comes even indirectly in the kitchen and the bathroom. The brightness is also guaranteed by the use of furniture and light colors, highlighted by the contrast with oak flooring.
This duality is clearly visible in the element of the staircase, the heart of the house, and that becomes a real piece of furniture. In fact, it seems to arise from the floor, with the first three steps that develop along the wall length: these are transformed into furniture, which provides a large surface on which the television and other everyday objects rest, and various hidden drawers. The staircase goes suspended in space, kept in balance thanks to the steel uprights, painted white like the rest of the structure, and which are anchoring in the ceiling of the first floor. The stair treads continue to be wood, creating continuity between the floor of the ground and the upper floor. The warm color of oak is also reflected in the furniture of the kitchen and the library; for the bathroom, however, the Orosei marble has been chosen, a local stone.
Climbed the ladder, toward the sleeping area, a small studio overlooking the well of light, in direct communication with the living room.
Project Details
Project: Private apartment
Type: Private residence
Year: 2005
Architects: Officina29 Architetti
Client: Privato
Photo Credits: Pierfranco Cuccuru