Concrete Woods – Restaurant hall Hotel Corte Rosada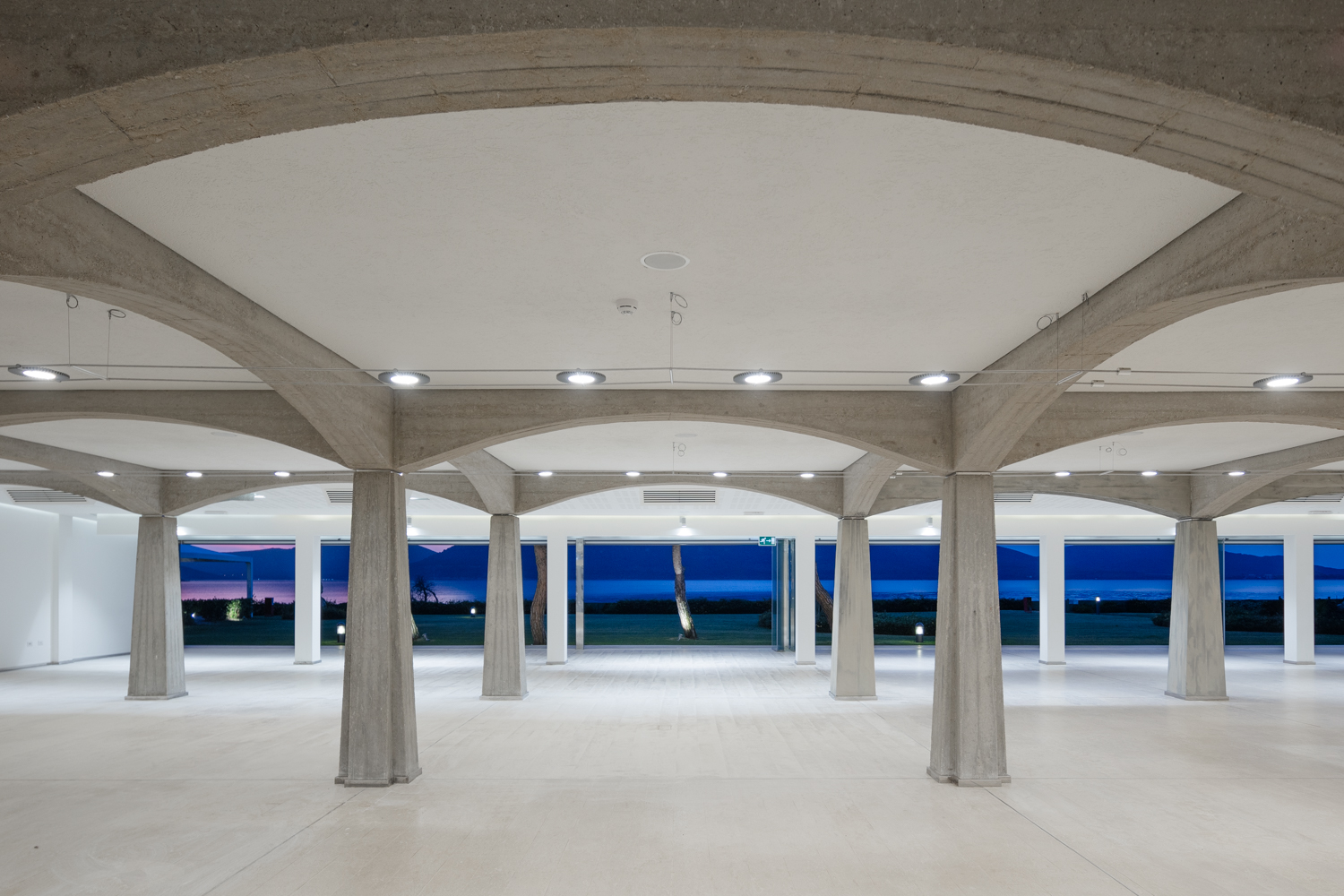 Project Description
The restaurant hall of Hotel Corte Rosada enjoys a great view over the Gulf of Alghero, but originally the latter was completely devalued. The windows looking toward the sea, in fact, were characterized by large frames that closed the perspective on the outside, as well as they were raised from the floor, completely cutting off the relationship between interior and exterior. This area, visually more important, was diminished by a wood cover, low and completely detached from the rest of the hall.
It has therefore been chosen to eliminate the problem at its roots: demolish the low wall and external fixtures that rested on it, in order to improve the physical and visual relationship between internal and external environment; in their place, packet panoramic windows, with no exposed frame – both towards the sea and the hall entrance. In this way the impact on then landscape has also been decreased, which is important as we are in the Regional Natural Park of Porto Conte. This relationship has also been accentuated in the hotel lobby, from which it is possible to see the sea thanks to glazed openings, that allow the continuation of perspective towards the gulf. When it is necessary to ventilate the area, all the doors of the glass run along their track, until they recline on one another at the stroke end.
Another characteristic of the restaurant hall is the presence of a forest of pillars and arches, that mark the space and dictate its pace. To highlight their importance, it has been chosen to take their plasters down and bring the beauty of bare reinforced concrete to light. The pillars seem to visually continue in the pine trees on the seafront park, in an endless dialogue between inside and outside. The wooden roof has been hidden from false ceilings, which also include the plants, and the two areas, initially so different, have been stitched through semi-arches of concrete of different lengths, entirely similar to those already existing.
The terracotta and gres flooring has been replaced by a more homogeneous and clear one, similar to the white sand of the nearby beaches, which continues externally becoming Vratza marble.
The lighting of the room is guaranteed, therefore, not only by the natural light that floods the space thanks to the large windows, but also by a suspended system of spotlights on cables, which runs the entire length of the hall and interact well with the concrete arches.
Project Details
Project: Concrete Woods.
Type:  Restaurant Hall
Year: 2014-15
Architects: Officina29 architetti
Client: Private
Photo Credits: João Morgado, Fotografia de arquitectura