A terrace on the hill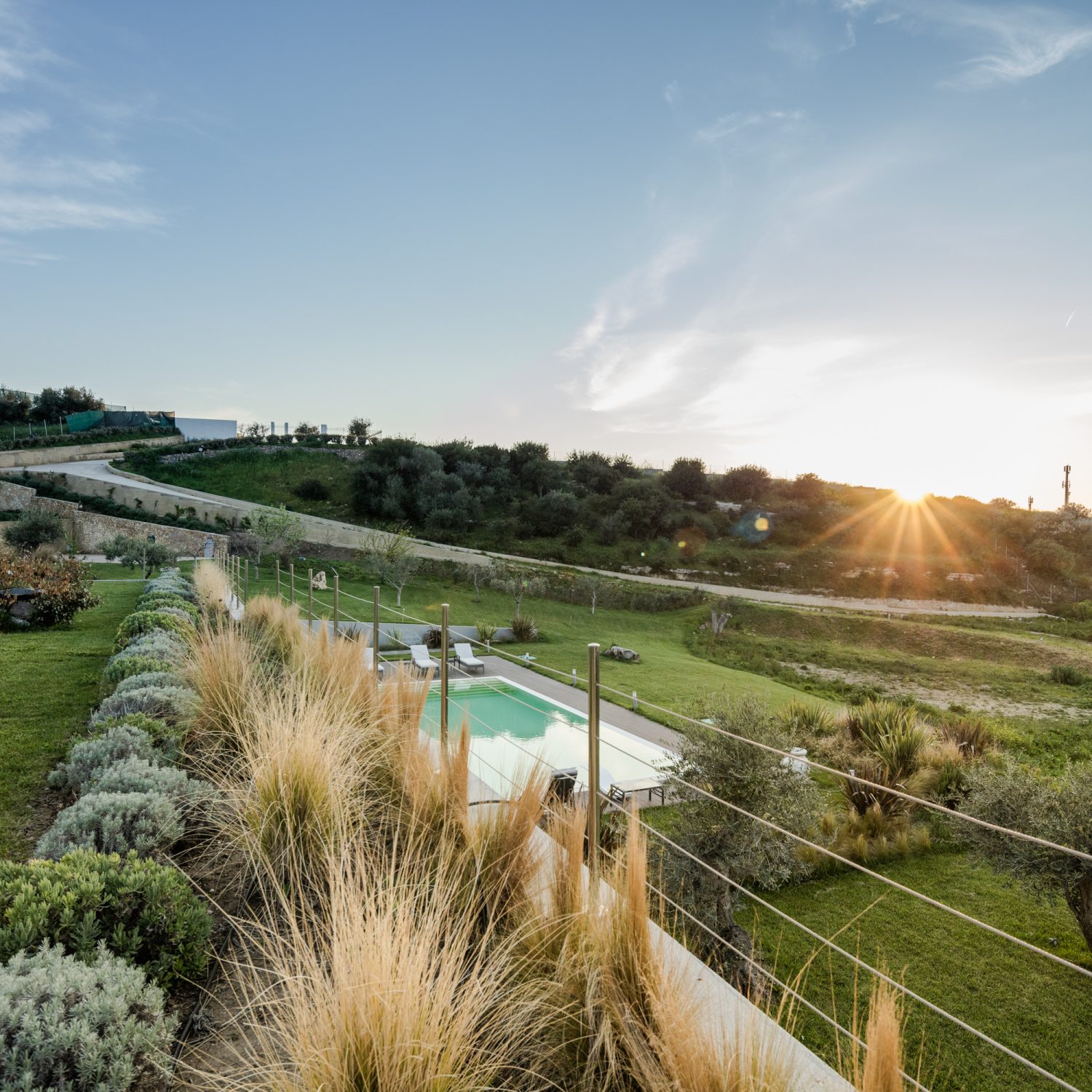 Project description
A terrace on the hill
 is a project made by Officina29 Architetti and is the result of the renovation of a country house and the construction of a pool. In this project is fundamental the context in which the villa is placed: the will to resume pre-existing elements of the surrounding landscape and readapting them in a contemporary way.
Outside the villa fits perfectly in this modern "nativity scene", surrounded by a frame of olive trees and located on a natural hill, facing the sea. A game of balances between rural and contemporary becomes the heart of the entire house: outside, covered walls in cracked stone alternate themselves with large glass openings, whilst inside can be found tiles of scratched Orosei marble, expressive as the stone, matched with glass and steel parapets and unusual vertical wooden walls.
The house is distributed on two levels: upstairs the sleeping area, with three bedrooms, a dressing room, two bathrooms and a study area. The ground floor is dedicated to the living area, which is accessed via a staircase completely covered in scratched marble of Orosei, such as to look like a block carved into the stone. The level zero is organized into three main areas: a living room with a fireplace, communicating with a dining area that overlooks the kitchen, marked by the evident contrast generated between the steel and the texture of the wood that characterizes the door access to the cellar.
In the cellar, the wall of exposed reinforced concrete, drilled to accommodate the wines, is a clear example of the adaptation of a rustic setting, typical of the agricultural world, reinterpreted in a contemporary way.
In terrace below there is the pool, which is accessed via a flight of stairs carved into the ground. Tied to the house above, it appears as an independent and private corner, where to rest surrounded by the nature and to admire the scenery.
The garden is located on a sloping land, direcly exposed to the north-west winds and with a spectacular view on the Asinara Gulf. The shape, the choice of vegetation and the characteristics of the garden correspond to these peculiar conditions of microclimate and topography. In fact, the green area is organized in different terraces, to help the access from the house and to prevent soil erosion. The native plants, characteristic of the Mediterranean scrub, are organized in heterogeneous groups with ornamental grasses, flowering perennials and plumage species. In the lower part of the garden the olive grove and the orchard: the latter is composed mainly of local species typical territory.
The space around the pool is framed by the vegetal composition of ornamental grasses with Mediterranean perennials, which do not prevent the sea view, protecting the solarium area from the wind and creating an interesting design. The vertical wall of the basement dependance will be completely covered with the climbing species, leaving to view only the large stained glass windows.
Project Details
Project: Rural villa
Type: Private residence
Year: 2014-2015
Architects: Officina29 architetti
Landscape Design: Vlatka Colić
Client: Private
Photo Credits: João Morgado, Fotografia de arquitectura