A SPA among pine trees – Hotel Corte Rosada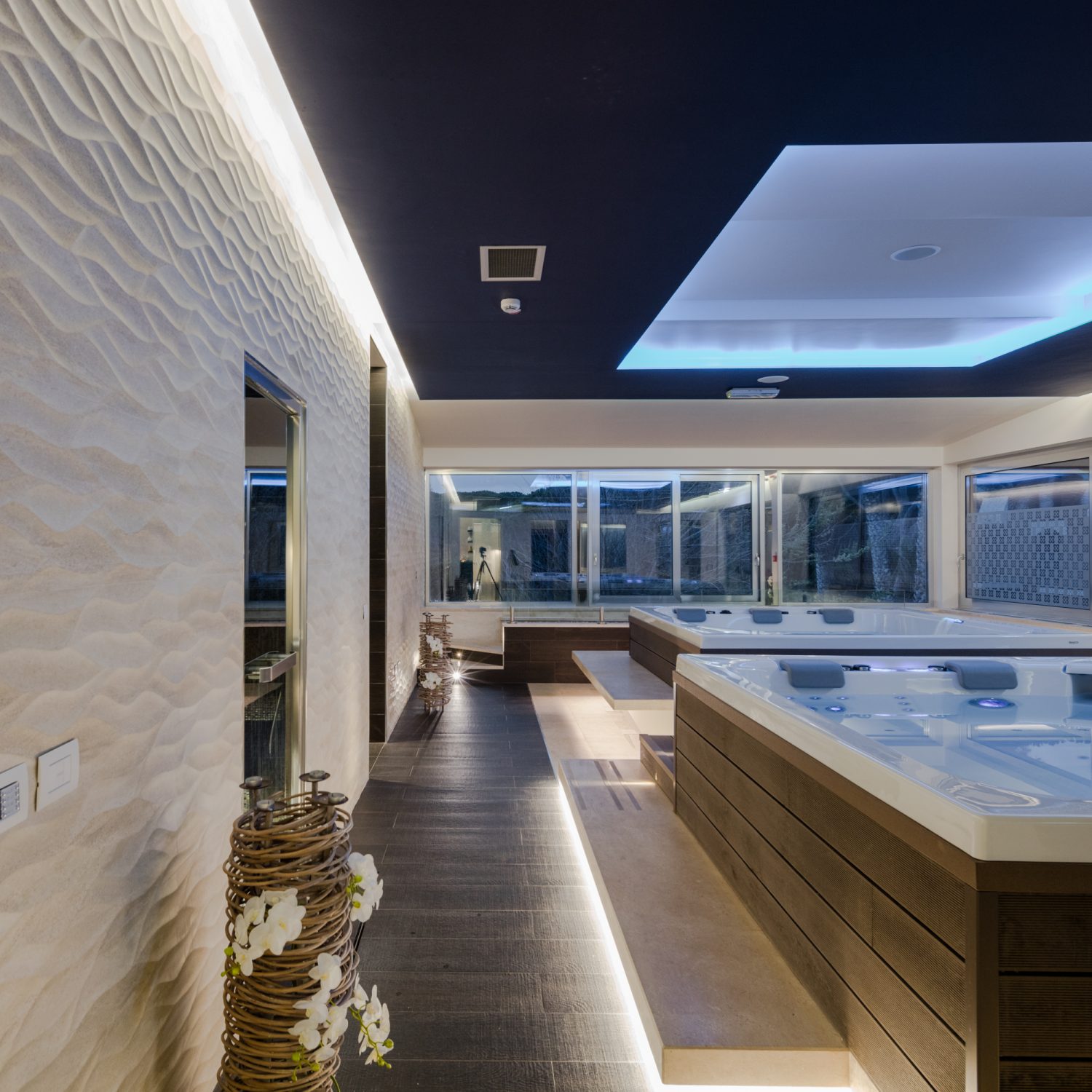 Project Description
Surrounded by the peace of Porto Conte Park, nestled in a pine forest facing the sea, the Hotel Corte Rosada's wellness center is located. Designed and tailor-made by the Sardinian firm Officina29 Architects, it is the ideal place to find the lost calm and indulge in a few hours in total relaxation.
Located on the first floor of the central block of the hotel complex, where a congress hall was set up, the musicality of a soundfall catches the visitor, inviting him to reach the entrance hall and introducing the main theme: water. This entrance manages the various activities that the center offers: the gym, relaxation and massage rooms, and the SPA area. The ebony colored porcelain stoneware flooring leads to the centra room, from which all the treatments can be accessed, leaving room to a band of a porcelain stoneware with stone effect in the central area , along which there are two large hydro-massage bathtubs: these are covered in wood, and define space through a beautiful game of suspended slabs made in vratza marble, whether they are seats or steps that facilitate the access into the tub. This room overlooks the Turkish bath, fully tailor-made, with flooring and walls covered in black glazed mosaic tiles, and the showers, coated with the same ebony material on the floor. The kneipp path is located on the short side of the hall, which is also made to measure and covered in cobblestone; on the opposite side there are two glass doors that lead respectively to the relaxation room and the Finnish sauna; the latter is preceded by the emotional showers path, which is also covered with dark tiles. From the central room, the solarium terrace can be reached, too.
Unlike the common concept of a SPA – dark, with soft lights and no openings to the outside – this one gives itself to nature, thanks to the ribbon windows running on the three sides of the structure, and framing the surrounding pine forest as a long frame. The use of dark materials such as those described above, and a blue countertop that organizes diffuse lighting and links the entire area, contrasts with the brightness given by the natural light that filters from the windows.
The wall coverings, which appear to be made of sand worked by the waves of the sea, are embellished with widespread lighting, which guarantees a striking effect of lights and shadows, especially at sunset and night. Walls never reach the ceiling: the top is in fact closed by ficed glass windows, in order to ensure visual continuity between the rooms, even more emphasized by the colored ceiling.
Project Details
Project: A SPA among pine trees
Type: Wellness center
Year: 2015-16
Architects: Officina29 Architetti
Team project: Stefano Ercolani, Antonio Chessa, Alessandra Caria
Client: Privato
Photo Credits: João Morgado, Fotografia de arquitectura