In honor of the day on which the dead are remembered, the Sardinian newspaper La Nuova Sardegna wirtes about the restoration of the Ardisson Monumental Tomb by Officina29 Architetti.
Thanks to the collaboration with the restorer Dr. Giuseppina Ianiri, the MiBACT with the architect Gabriela Frulio and Dr. Maria Paola Dettori, and the company Luciano Sini srl, specialized in this type of interventions, the pyramid dating back to the '900, is about to return to its old splendor. The restoration project of the Ardisson Family Tomb, located in the Monumental Cemetery of Sassari and one of the most famous and well-known, has in fact almost come to an end and La Nuova Sardegna has decided to tell about it in an article signed by the journalist Paoletta Farina.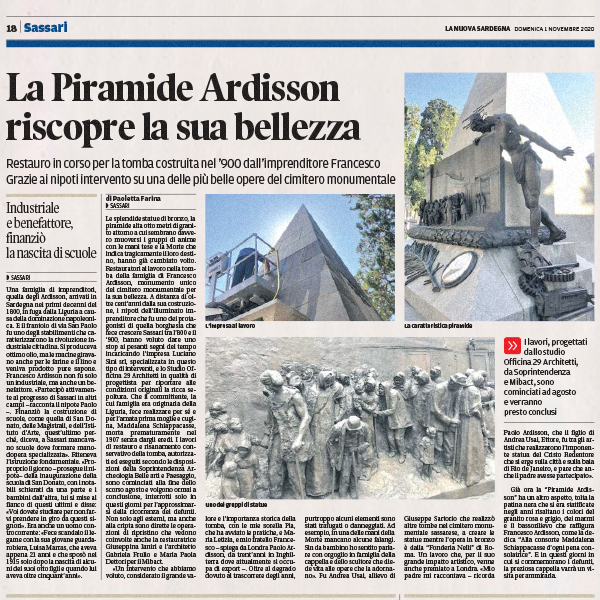 Already now the "Ardisson Pyramid" has another aspect, after the black patina that had been established over the years has been removed, the colors of the pink and gray granite, the marble and the bas-relief depicting Francesco Ardisson stand out, as the dedication "To the wife Maddalena Schiappacasse consoler of any pain". And in these days when the dead are commemorated, the precious chapel will be worth a visit to admire it.
You can read the article in the edition of November 1, 2020 on page 18, or on the website of the newspaper La Nuova Sardegna.